I've been doing some reorganising of my studio the last few days. As the title suggests I came to realise that I don't use things I can't see. When I scrap for the most part I will use whatever is out in the open and close to hand. I found some neat organisational goodies at a Big Lots type store on Monday and I have been rearranging my space all week to be more efficient.
The first two photos are an overall view of my space. We have a mezzanine bed (or as I like to call it a bunk bed for grown-ups) and my studio is below. It's a very compact space consisting mainly of a table (a laminated board on two saw horses), an armoire type desk, and two bookshelves.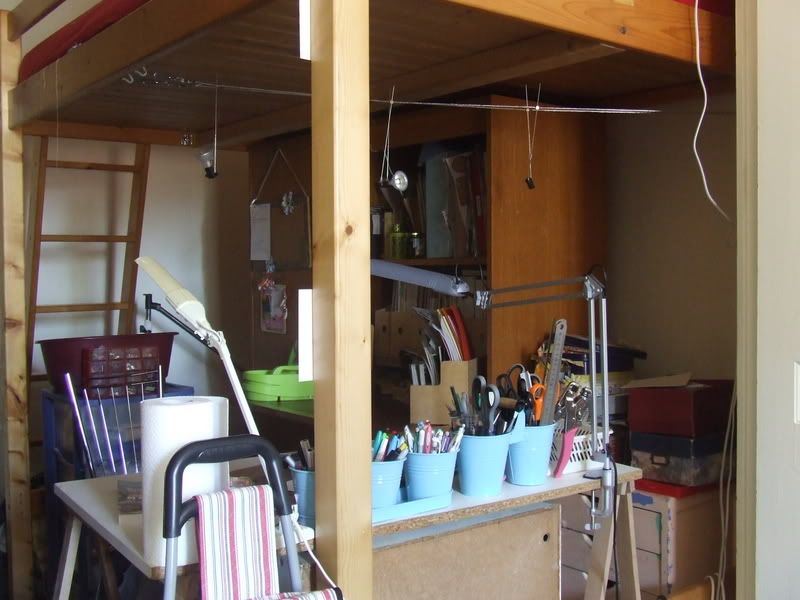 On the two bookshelves I keep the majority of my paper and cardstock, unmounted stamps in CD cases, ribbon, flowers, paints, chipboard, tools and adhesives, paint, stickers, embellishments, fabric and found items.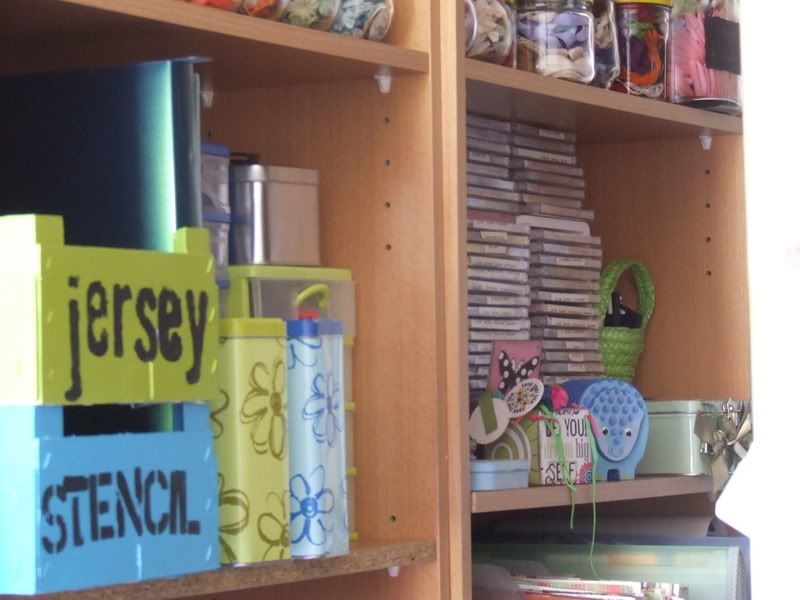 On the left are some of my foam letter stamps, in the painted wooden boxes and the green document folders. I have four other sets in metal tins on a lower shelf. I still need to alter them, hence no photo. The green and blue tins are actually empty. I'm not sure what I will put in them, any ideas?
The yellow/green plastic drawers to the right hold random embellishments organised by colour.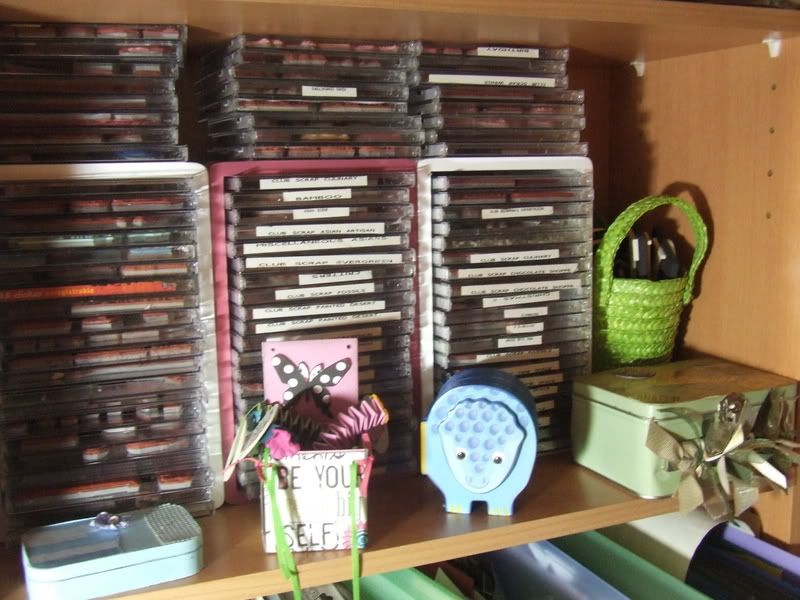 I got those CD cases for a steal! I wish they had more than three since a lot of them don't fit!
The blue "creature" is actually a child's wooden book that I plan to alter. Although it does look pretty cute the way it is!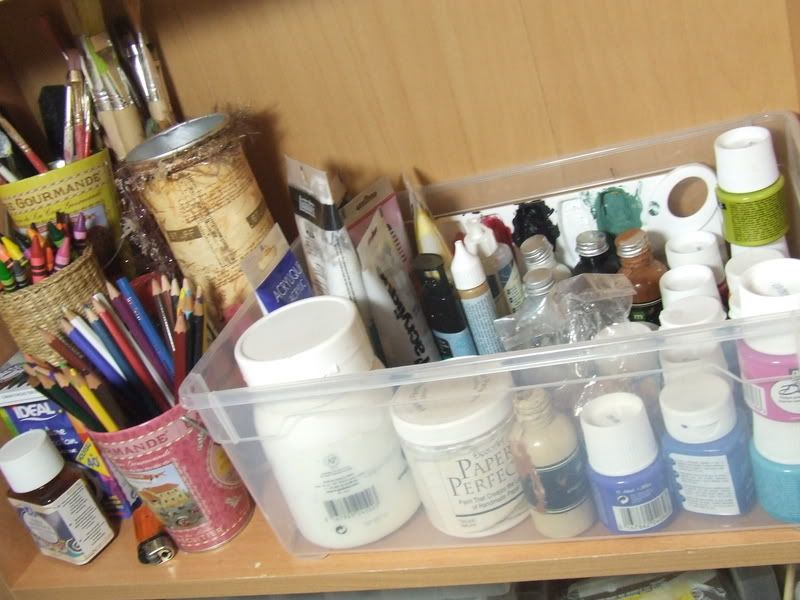 All my paints, brushes and related items.
Cardstock and patterned papers in Cropper Hopper holders. The cardstock is organised by colour, and the patterned papers by manufacturer cause my brain works that way. I found these great 12x12 accordian holders at the supermarket here. Another steal! They hold both 12x12 and 8x12. One holds my letter stickers and adhesive chipboard letters, the second paper scraps, and the third flat embellishments in packs and other stickers. All my chipboard is in various containers on the shelf below this.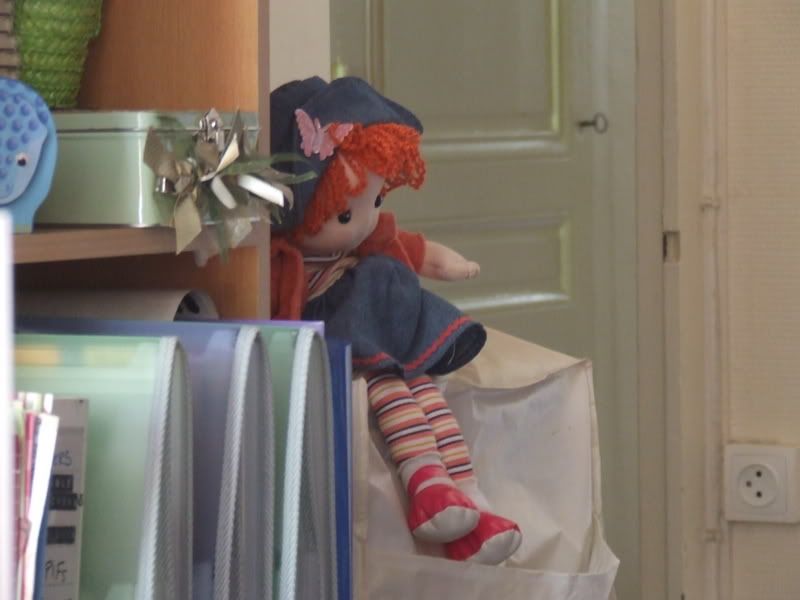 My sewing machine off to the right.
Ribbon and flowers by colour in jars from Ikea.
Fabric and found items in plastic bins and recycled glass jars
A close up of the armoire type desk. All my magazines are there, along with other flat items
The chalkboard is my attempt to remember what projects I want to work on (this doesn't always work). The green trays were actually part of the plastic bins I use for fabric.
Wood mounted alpha stamps in wooden bowls. I plan to paint the bowls!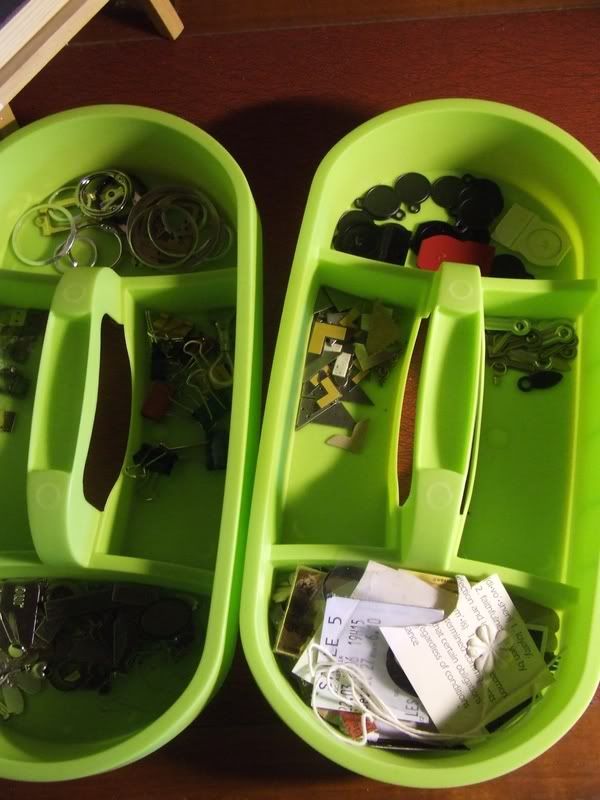 A closer look at the green trays. Mainly metal embellishments that I use often.
My main work surface, with cutting mat, paper trimmers, and pots with tools and pens.
Close up of pens on my main work surface. Only because I like this photo! I had them in a drawer thingy but I think I prefer to have them out like this. More aesthetic!
Thanks for taking the tour with me. I'm not finished, I have other plans for the space, but that will be over time. But I'm happy with where it is right now, I think I will be more efficient!